1.Super Brightness
120% more Vision. (20% more light on the road) – 35W HID xenon bulb with Stainless Steel cap design allows for optimum heat dissipation, also upgrade the brightness as well.

2.Stability
3-5% Longer Lifespan. Stainless steel cap keeps the bulb cooling quickly and reduce wear and tear and maximize its lifespan.
3.Robust
Robust Metal Structure Optimal light spectrum. HID bulb for the car can have more Durability & Longer replacement cycle.
4.Beam Pattern
Always replace in pairs to ensure a beam pattern from both Xenon HID bulb on the road.
5.Brilliant Style
35W HID xenon bulb with Stainless Steel cap not only Robust & Bright but also built to enhance the character of your vehicle & will add a stunning, slick style with its brilliant light on your ride.
6.Legal Importation
Automotive HID xenon bulb should be meet ECE Reg. 99 which standard is implemented in European to guarantee the performance & quality.
Only bulbs carrying an appropriate E-MARK can be used on the road.
BRIGHTSTARTW Taiwan GENUINE E-MARK certificates for HID bulbs approved by TUV Lab, which can provide the REAL E-MARK certificates with your order shipment.
According to the standard, only bulbs are between 4200K- 5000K can be approved. So our E-MARK bulbs range is 4300K & 5000K. Furthermore, D3R&D4R are quite a few quantities on the market; actually we have the most completed E-MARK bulbs range in Asia market with D1S/D2S/D2R/D3S/D4S.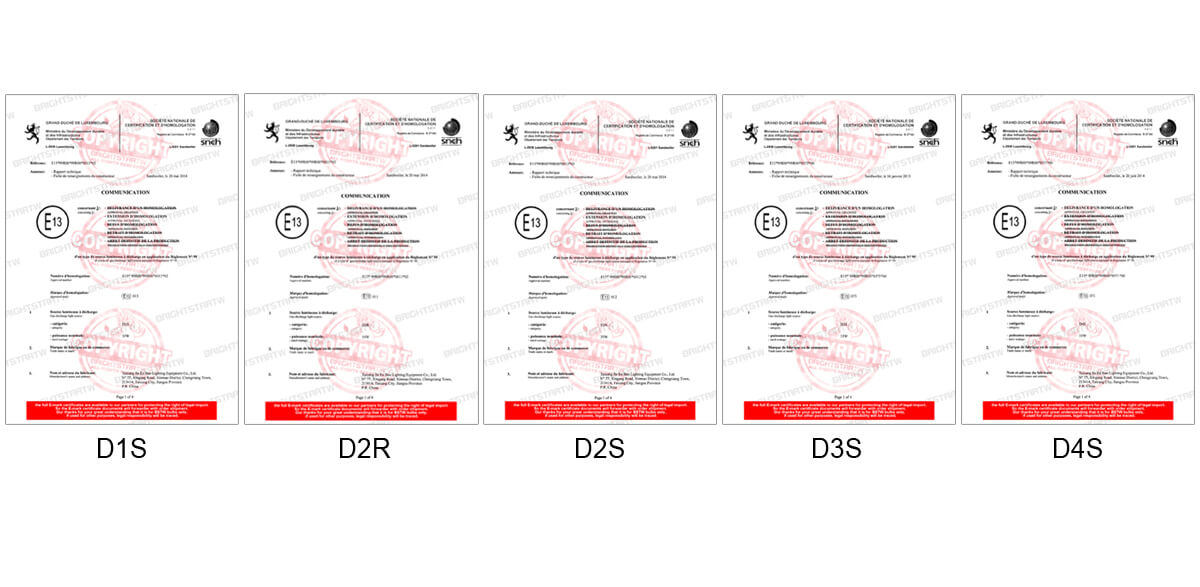 7. High CP Value
1/3 price compared to Osram. It will make you more profits on the legal basis of the HID bulb for cars. Comparison video of Osram's HID xenon bulb and ours by a professional lumen tester- integrating sphere:
You could find OSRAM'S E-MARK D2S 4200K HID xenon bulb is 3,448 LM at 2:15 and our BRIGHTSTARTW's E-MARK 5000K bulb is 3,239 LM at 8:02.
| | | | | |
| --- | --- | --- | --- | --- |
| Model | Osram E-MARK D2S 4200K | Philips D2S 6200 K Japan Only | BRIGHTSTARTW's E-MARK D2S 5000K HP bulb | BRIGHTSTARTW's D2S 6000 K |
| LUMEN | 3,446.73 LM | 2,578.08 LM | 3,234.70 LM | 2,466.38 LM |
| Time | 2:15 | 4:40 | 7:22 | 9:50 |
For building the trust between European customers and BRIGHTSTARTW, we forward the E-MARK Certificate of BRIGHTSTARTW's HID bulb for the car with the shipment for reference.
Full Xenon HID bulb E-MARK certificate documents are only available to our partners for protecting the right of legal importation.
---
Read More About

HID Bulbs Metal Base 5000K 35W