'Electric Bike 45 km/h' is a new generation of electric bicycle in Europe and belongs to the moped category. More and more people choose the Electric Bike 45 km/h as a healthy and greener alternative to the car. It is an ideal commuting solution for traffic jam and air pollution.
---
What is Electric Bike 45 km/h?
Electric Bike 45 km/h must comply to the type approval based on the EU 168/2013 regulations from January 1, 2018.
In the technical regulation (Regulation 168/2013), the European Union has categorized the Electric Bike 45 km/h as a moped.
EU 168/2013 Regulations
The following chart can help you distinguish the category of Electric bicycles in European Union Regulation 168/2013.
| | | |
| --- | --- | --- |
| Electric bicycles | Powered Cycles | Two-Wheel Mopeds |
| Maximum Power Output | 1 kW | 4 kW |
| Maximum Speed | 25 km/h (Pedelec) | 45 km/h (S-Pedelec) |
| Pedal Assist or Throttle | Both | Pedal Assist Only |
| Wheels | 2, 3, 4 Wheels | 2 Wheels |
Ref: Ebike Laws Around the World
https://www.radpowerbikes.com/blogs/the-scenic-route/ebike-laws-around-the-world
---
What Is Speed Pedelec Regulations In European Region?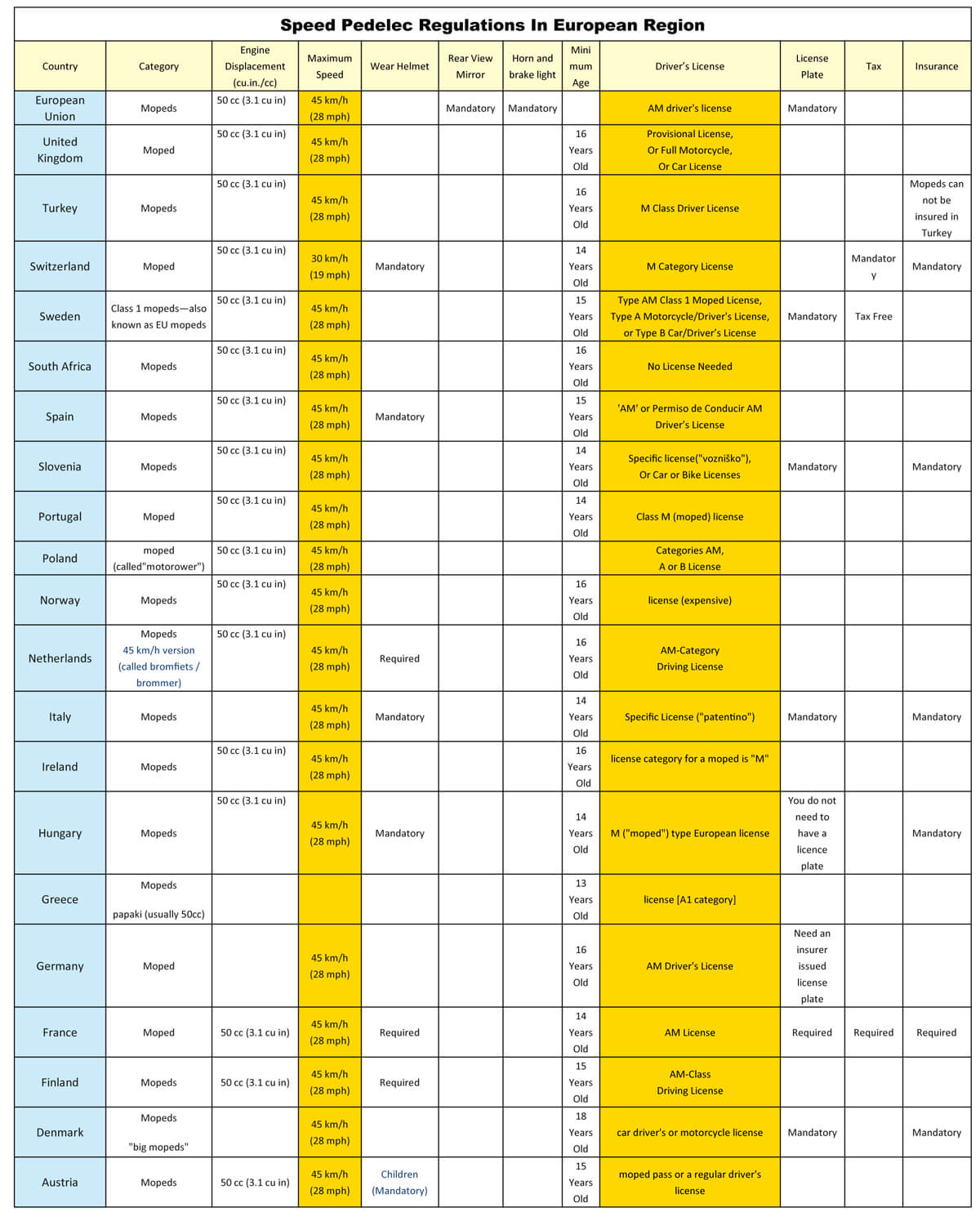 Ref: Moped – Wikipedia
https://en.wikipedia.org/wiki/Moped
Ref : What is the Legislation for Speed Electric Bikes in France?
https://easyebiking.com/what-is-the-legislation-for-speed-electric-bikes-in-france/
---
What is the important requirement & test of S-Pedelec Lighting ?
E-bikes/pedelecs with CE marking and pedal assistance of up to 45 kmh/28 mph are subject to the Machinery Directive. Components which may only be replaced upon presentation of a valid test report . (ABE*, EC, ECE) or part certificate. Because speed pedelecs are classified as motor vehicles and subject to the EU Regulation no. 168/2013.
Headlight:With valid type approval, identical mounting position as well as EMC proof only.
Rear Light with brake light and licence plate light: if available
(With valid type approval and identical mounting position only, as far as tested in accordance with ECE regulation as well as EMC proof).
Therefore, qualified E-Bike headlights and E-Bike rear lights with brake lights and license plate lights should have E-mark and EMC certificates. 
---
Where can I buy electric bike lights approved by EMC?
All BRIGHTSTARTW electric bicycle headlights with ECE R113 and R10 (EMC) E-mark certification have passed the most reliable TUV certification, and ensure your safety and reliability!
BRIGHTSTARTW E-mark electric bike and electric motorcycle lights (made in Taiwan)  https://brightstartw.com/product-category/e-bike-e-moto-lights/

We will continue to provide you with the latest news sharing: new products/innovative technologies/comments. Welcome to subscribe and exchange ideas and opinions with us.