Do You Know There're Differences In Photometry Requirements For Europe & North America?
Are You Not Knowing Clearly That What Is The Lights Beam Pattern Required By Regulation?
We make an easy-to-read photo showing the regulatory light beam requirements according to the complex data for both European Certificate & North American standards!
---
Differences In Photometry Requirements For Europe & North America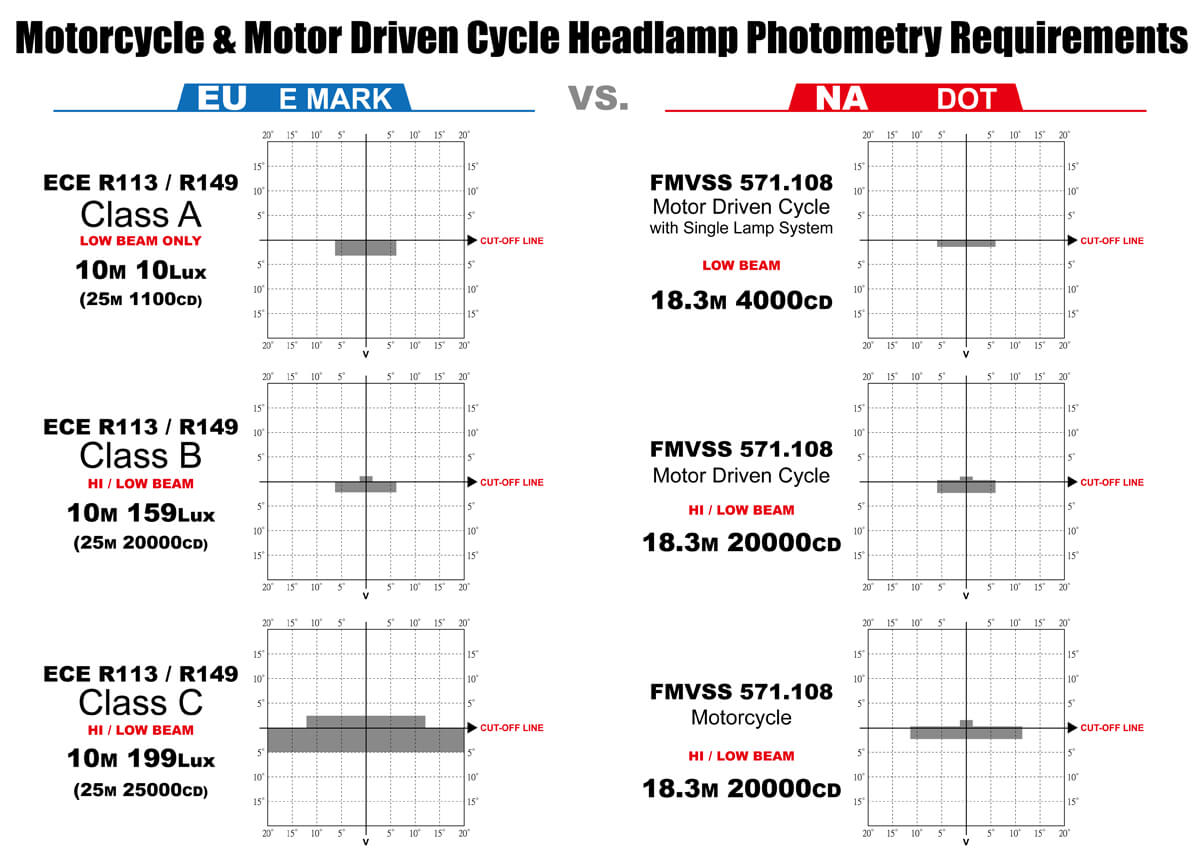 Europe E-MARK: UN ECE R113 / R149
For Class C headlamps (Dimensions in mm with the screen at 25 m distance)
Primary high beam headlamp: Min Luminous Intensity of the Maximum(IM) 25000cd
Photometric Distribution is a much wider area.
North America DOT: FMVSS 571.108
For Motor-Driven Cycle & Motorcycle headlamps
(S14.2.5.3 Measurement distance. Photometric measurements are made at a distance between the light source & the photometer sensor of at least 18.3 m.)
Upper Beam: Minimum Photometric Intensity 20,000cd at test point 0.5Degree V
Photometric Distribution is at a relatively narrow area.
---
Conclusion
E-MARK Certificated lights with UNECE R113 / R149 are compliant with the stricter Requirements than FMVSS 571.108 in the Testing Distance & the Brightness & Photometric Distribution.
---
What Is A SAFE, BRIGHT, HIGH END & LEGAL COMPLIANT Headlight?
Market widely misuse 30~100 Lux Torch-grade headlights for traditional bicycles to high speed E-Bike/E-Motor.
Such narrow light beam keeps you in danger because it can't have a full vision during high speed riding and road crossing!
●REAL SAFE & LEGAL CHOICE
As we all know, cars & motorcycles lights are very important safety parts, which are included in the regulation of UNECE & DOT.
So does electric bikes. UNECE already have clear regulation for the headlights used on speed pedelecs.
E-MARK E-Bike Headlights Ensure High Brightness And Accurate Beam Pattern.
High Brightness can help the rider Early obstacles Detection, Early Response.
Accurate beam pattern with clear cut-off line can focus on the road ahead instead of spread the light everywhere even glare the oncoming drivers eyes.
Accurate beam pattern also provide enough wide beam for safe vision in all directions front, left & right, especially at the road crossing!
Only Accurate Beam Pattern For Clear Vision Can Make High Speed Electric Bicycle Riding Safety.
---
Read More E-MARK E Bike / E Moto Light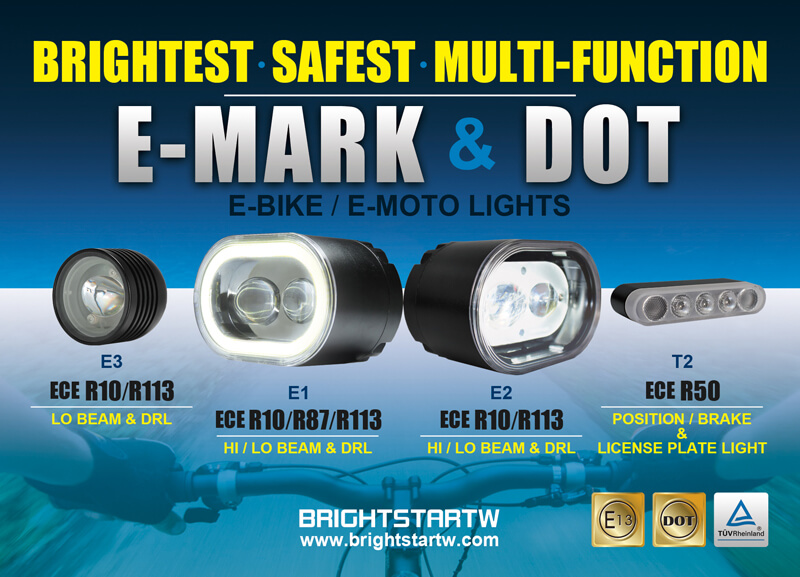 Kindly feel free to let us know if you have any opinion (service@brightstar.com.tw), welcome to contact us. We will be happy to hear various technical opinions! See you around!