Electric Bike headlight reaches the quality standards, E-MARK approval & DOT compliant are quite easy to get !
To be DOT compliant, all motor vehicle Lamps, reflective devices and associated equipment" must meet the Section 108 requirements of the Federal Motor Vehicle Safety Standards (FMVSS).
Therefore, BRIGHTSTARTW  Electric Bike headlight performs the most rigorous Quality Assurance Procedures based on DOT FMVSS / SAE / ASTM Standard for product robust and ensuring traffic safety requirements.
---
What is DOT Compliance?
The laws of the United States require that all motor vehicle manufacturers and manufacturers of regulated motor vehicle equipment, offering product for sale in the United States, be registered by DOT and self-certify their product as complying with all applicable Federal Motor Vehicle Safety Standards (FMVSS).
APPLICATION PRODUCT SCOPE

Motor Vehicle Type

        1. Passenger car

        2. Multipurpose passenger vehicle

        3. Truck

        4. Bus

        5. Motorcycle

        6. Trailer

        7. Low-speed vehicle
Regarding the Motorcycle, SAE also has clear Definitions for Motorcycle:
Motorcycle—A motor vehicle designed to operate on no more than 3 wheels in contact with the ground,
having a curb weight of 793 kg (1749 lb) or less, 1134 kg (2500 lb) or less for electric-powered motorcycles.
---
What Are BRIGHTSTARTW Quality Assurance Procedures?
BRIGHTSTARTW Quality Assurance Based on FMVSS / SAE / ASTM Standards include:
S14.4.2.3 Heat Test
S14.5.1 Vibration Test
S14.6.6.3 Temperature Cycle Test
S14.6.9 Sealing Test
Salt Spraying Test
---
What is the purpose or requirement for BRIGHTSTARTW Quality Assurance?
BRIGHTSTARTW Quality Assurance (QA) Procedures help us to provide our customers with products of superior quality and reliability.
We can test all of the rigors and stresses that E-BIKE/E-MOTO lights are subjected to on the road during prototype creation and final random inspection prior to shipping.
Most of the FMVSS bill of the US Department of Transportation is adopted from SAE standards.
For FMVSS 108, it quoted some SAE & ASTM Standard.
FMVSS / SAE

Purpose / Requirement

S14.4.2.3

Heat Test

confirm the effect on sample shape and appearance caused by the repetition of temperature change

S14.5.1

Vibration Test

Ensures to perform under falling condition.

S14.6.6.3

Temperature Cycle Test

Assure to resist extremely low & high temperature.

S14.6.9

Sealing Test

IP 68 for 5m underwater based on 20psi.

ASTM B117-73

Salt Spray(Fog) Testing

Check to be tough enough to withstand harsh.
Ref: §571.108 Standard No. 108; Lamps, reflective devices, and associated equipment.
https://www.ecfr.gov/cgi-bin/text-idx?node=se49.6.571_1108
Ref: ASTM B117-73.pdf
https://www.scribd.com/document/390046094/ASTM-B117-73-pdf
---
BRIGHTSTARTW have an in-house quality testing laboratory besides our photometry & light distribution lab. Performing much stricter testing requirements than DOT, make the lights can be the only survivor in the toughest conditions.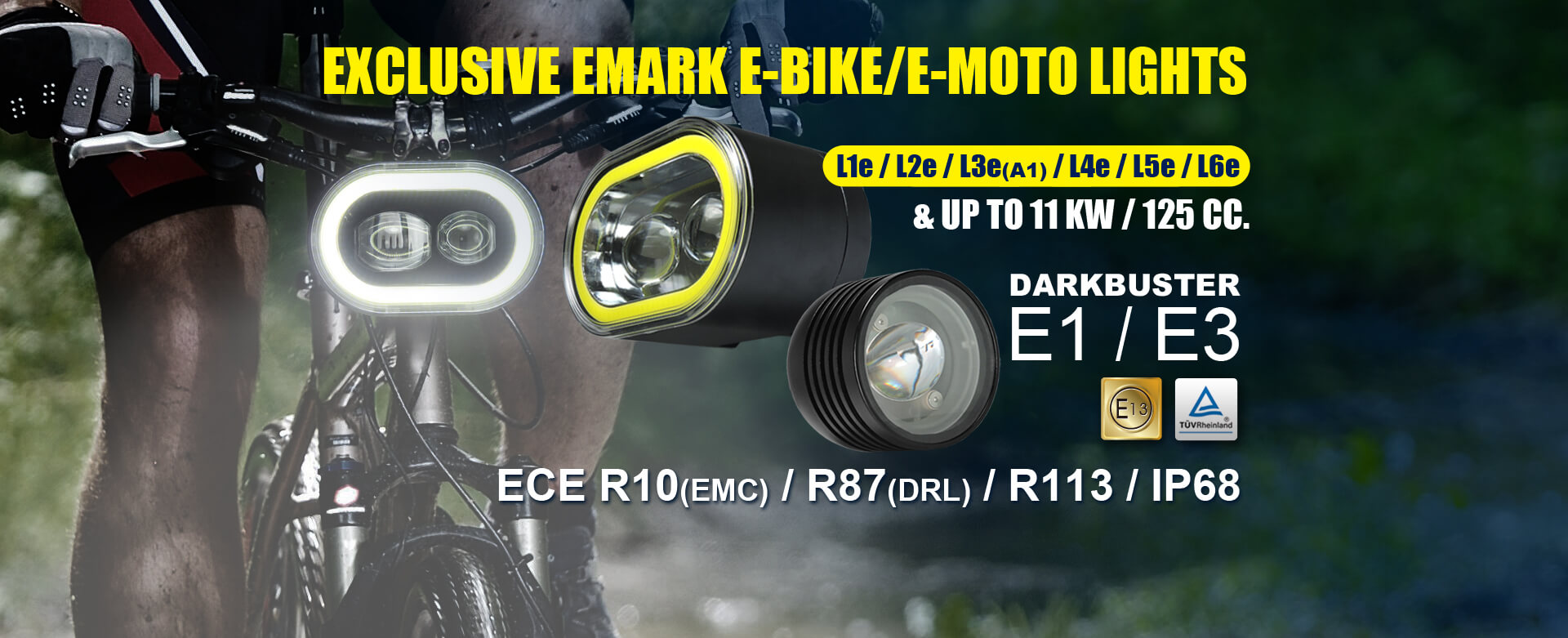 Ref: Electric bike lights 45 km/h Emark EMC approval | BRIGHTSTARTW  https://www.youtube.com/watch?v=lhvT6bWwcu8
Ref: FMVSS 108 Regulations https://www.govinfo.gov/content/pkg/CFR-2004-title49-vol5/xml/CFR-2004-title49-vol5-sec571-108.xml