The COVID-19 pandemic has prompted many people to take to two wheels indeed.
Many see public transport and S-Pedelec (ebike 45 km/h) as the least desirable option, so the number of cyclists is expected to grow to unprecedented levels.

But look around the S-Pedelec electric bike front light, there are just a few front lights that support you with good visibility, truly.
Meanwhile, how to find out the best S-Pedelec ebike 45 km/h front light for safe riding?
BRIGHTSTARTW focuses on qualified (E-mark & DOT) lights and familiar with EU & U.S.A regulations of E-Bike Lighting.
Therefore, we are happy to share experiences of ebike 45 km/h electric bike front light with you:
---
Type Of The Front Light For S-Pedelecs
It's a legal requirement to have a white light at the front and a red light at the rear, if not, riding without them after the sunset has set can be really dangerous as other road users will struggle to see you, indeed.
Headlight:
First, once we ride high-speed bikes like ebike 45 KM/H S-Pedelec, the high output brightness headlight is super essential. But now the current market is full of torch-like headlights.
Furthermore, it's really dangerous for high-speed riding. The E-BIKE market is booming, but riders ignore safety. 
The latest regulation of light-signaling devices and with regard to the installation (UNECE R74) for S-Pedelec L1e Category vehicles can see below data.
https://op.europa.eu/en/publication-detail/-/publication/e689ac66-37b2-11ea-ba6e-01aa75ed71a1/language-en/format-PDF/source-search
The electric vehicles (electric bicycles) with a maximum design speed not exceeding 50km/h are all involved in Category L1e type approval.
1. The passing bean headlamp, rear position lamp, stop lamp and rear registration plate light shall be equipped.
2. And driving beam headlamp, front position lamp, direction-indicator lamp can be equipped in addition.
3. Also it requires the headlamp should be forwards and may move in line with the steering angle.
4. Require EMC proof.
Here are the headlights with E-mark in the market for ref.: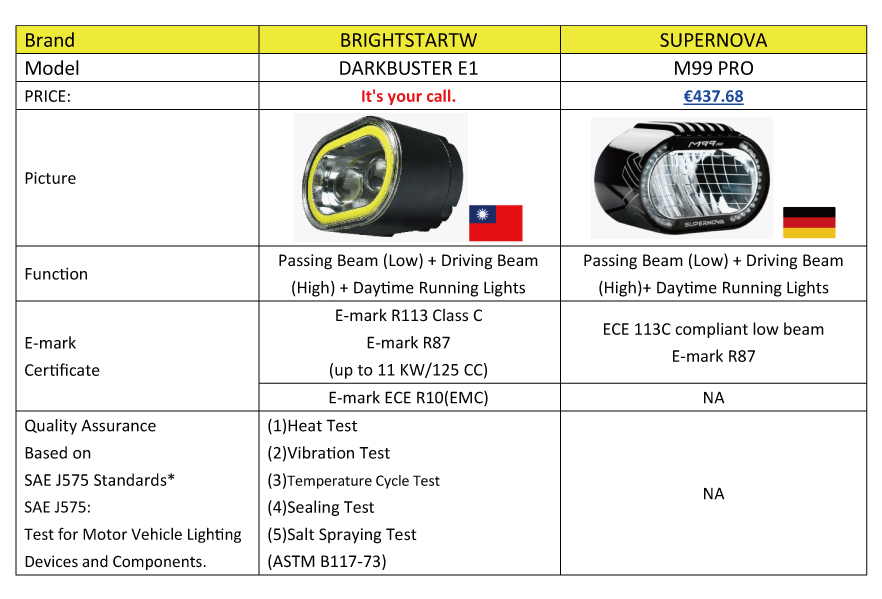 Ref.:
BRIGHTSTARTW DARKBUSTER E1 https://brightstartw.com/product/ebike-lights-e-mark-darkbuster-e1-45km-h/ (2020.10.27)
SUPERNOVA M99 PRO https://shop.supernova-design.com/shop/product/supernova-m99-pro-68?category=225 (2020.10.27)
---
Rear Light
The rear light is a legal requirement when cycling at night.
It has the proverbial one job: to get you seen, unlike a front light that has to be visible.
In fact, the best E-bike rear lights have long run-times, can be seen from a good distance. Additionally, tough and waterproof to fend of day-to-day abuse sufficiently. 
Also now German certification bodies had issued the guidelines.
Below are the guidelines for the parts replacement of speed e-bikes/pedelecs up to a pedal-assist of 45 km/h (28 mph).

Ref.: Guidelines-for-the-parts-replacement-of-speed-e-bikes-pedelecs-up-to-a-pedal-assist-of-45-km.pdf (d1wa5qhtul915h.cloudfront.net)
---
Daytime Running Light (

DRL)
Daytime running lights have been shown to be effective in reducing traffic collisions during lighter times of the day. Studies have shown that DRLs can reduce accidents by 19% and injury-causing accidents by 47%.
Daytime running lights (DRLs) are increasingly offered as standard. LED technology now means that DRLs are an option for E-bike riders. Choose the headlight with DRL will be the best option as that so much trouble will be reduced.
Comparing Light Performance:
Lux:
The lux (symbol: lx) is the SI. Additionally, Lux is the unit of illuminance, measuring luminous flux per unit area. It is equal to one lumen per square meter. In photometry, this is a measure of the intensity, as perceived by the human eye, of light that hits or passes through a surface.
Ref.: https://en.wikipedia.org/wiki/Lux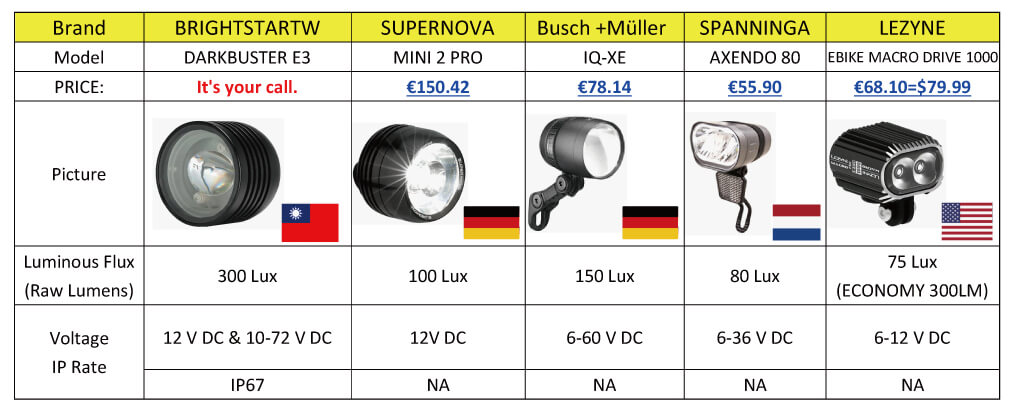 Ref.:
MINI 2 PRO https://supernova-lights.com/en/mini-2-pro/ (2020/10/15)
IQ-XE https://www.bumm.de/en/products/e-bike-beleuchtung/parent/164/produkt/164r60ts7-01.html (2020/10/15)
AXENDO 80 https://spanninga.com/product/axendo-80/ (2020/10/15)
EBIKE MACRO DRIVE 1000 https://ride.lezyne.com/products/1-led-emacr-v104s (2020/10/15)
Beam Pattern
Safety issues on the headlight products on the current market are low brightness, poor light distribution, easily glare to the coming vehicle.
Here are the UNECE regulations for safe riding beam pattern that everyone needs to know as the S-Pedelec:

Light Distribution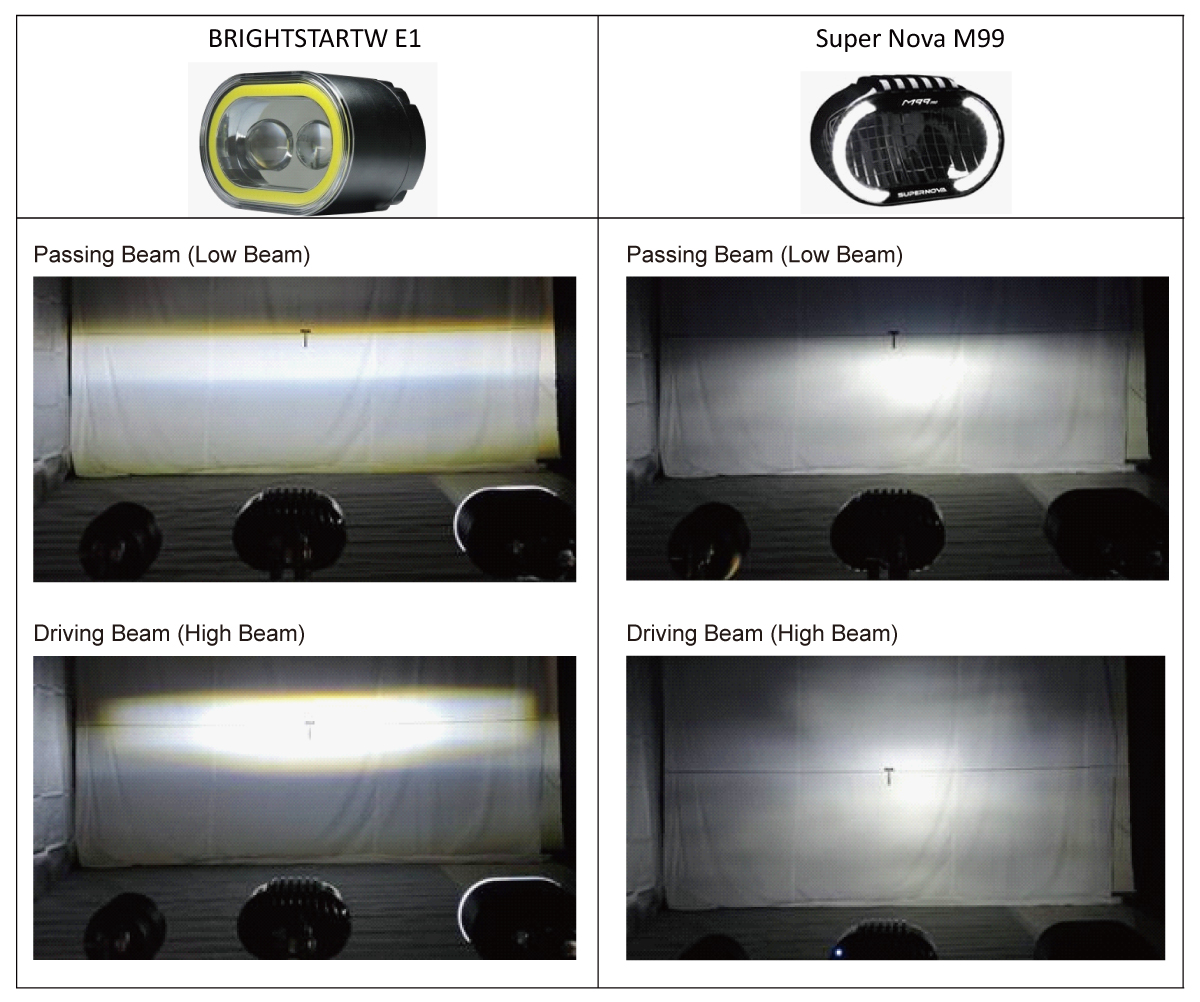 Driving beam(High beam): https://www.researchgate.net/figure/Illumination-requirements-for-a-high-beam-projected-onto-a-measuring-screen-in-order-to_fig1_281165976
Passing beam(Low beam): https://www.researchgate.net/figure/Requirements-for-low-beam-light-irradiating-the-measuring-screen_fig2_281165976
---
Power Consumption
Most riders struggle with the riding running time. The lower power consumption & energy-saving light can benefit the rider's riding experience.

For more details kindly see the testing chart below: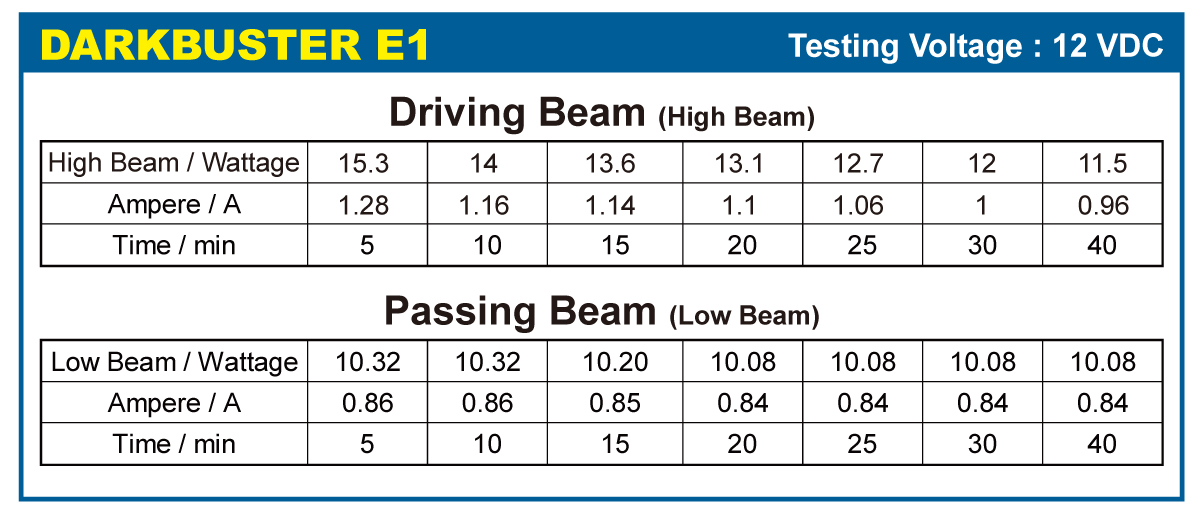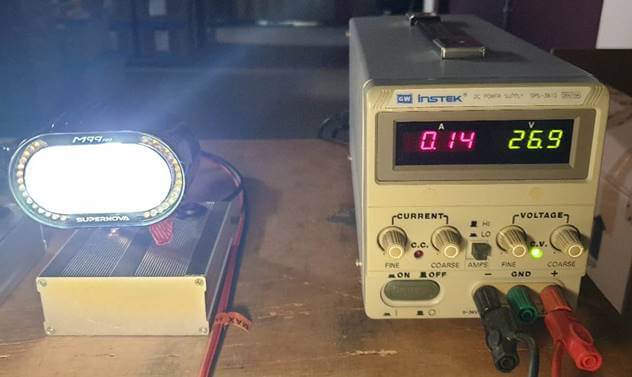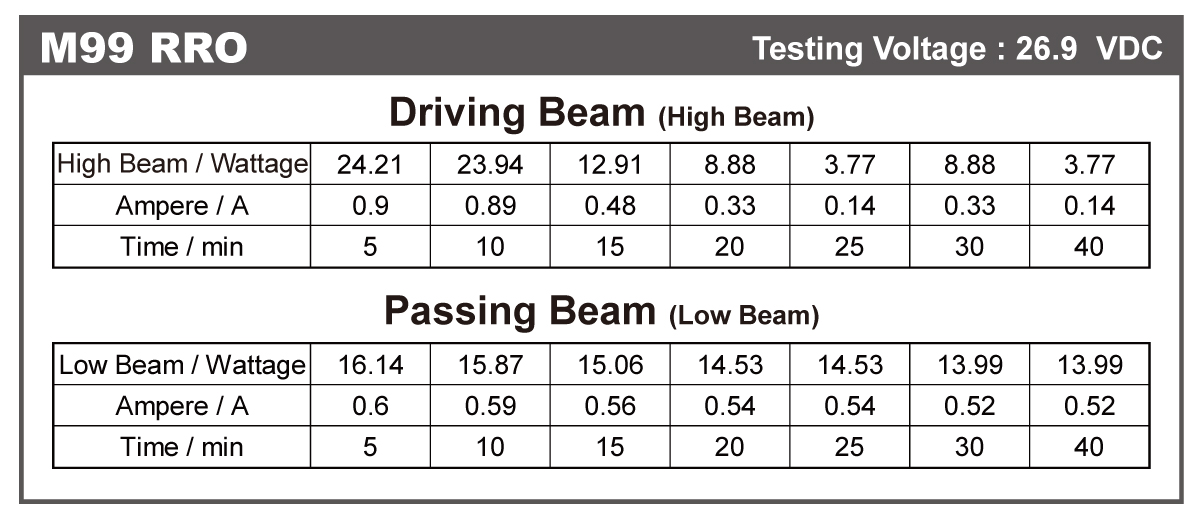 ---
Are You Looking For A New Light?
Would You Like To Upgrade The Headlight From 30 Lux To 300 Lux.?
Sharing with you! BRIGHTSTARTW is specialized in the optical & circuit design E-BIKE/E-MOTO lights. In the same way, conform to UNECE E-mark by TUV. No matter the brightness or the correct beam, helps the riders see and be seen as cars & motorcycles.
In the same way, for high-speed E-bike/E-moto (up to 45kmh /28 mph), E1 is an exclusive light compliant with both EU & NA regulations, wide input range, robust & long life span light for safe riding.
Moreover, compared to the same level lights, E1 is the unprecedented smallest, brightest, lowest power consumption, and the most energy-saving light with E-mark R113 Class C, R10 (EMC) & R87 (Daytime Running Light).
Ref.: https://brightstartw.com/product/ebike-lights-e-mark-darkbuster-e1-45km-h/
Additionally, T2 tail light is compliant with UNECE R50. Furthermore, T2 is equipped with OSRAM LED Chip, Universal Wide Input Voltage Range, and excellent EMC Design, bright & safer! Besides, T2 lights up the road behind with a brake light and license plate light.
The best rear light can boost your day & night visibility.
Ref.: https://brightstartw.com/product/e-bike-tail-light-3-in-1-e-mark-darkbuster-t2/
---
Kindly feel free to let us know if you have any opinion (service@brightstar.com.tw), welcome to contact us. We will be happy to hear various technical opinions! See you around!