The Top 3 Pieces of Safety-Related Technology As Voted: What Motorcyclists Really Think
As a matter of fact, Bike Sure surveyed 750 riders from across the UK to find out who's expanding their kit and buying the latest tech.
It's "safety credentials" that come out top, with more than half of respondents (52.5%) naming it as a key factor – more important, even, than price, which was voted for by 44.9% of respondents.
Ref: https://www.bikesure.co.uk/bikesureblog/2021/11/attitudes-towards-tech.html?fbclid=IwAR0nHjhpKGYI0Fwsf9q_NYlkHE9S_GNqt4I0RL7ynyDLb3V7EC0_zkCsm34
---
The Top Safety-Related Tech Respondents Are Excited About:
Anti-Lock Brakes
Firstly, Anti-lock brakes (ABS) are the most anticipated gear on the market according to our respondents, with 51.9% of people in agreement. They are proven to improve the safety of your riding experience by stopping you from skidding during sharp brakes. However, ABS is now standard on new bikes.
Adaptive Headlights 
Almost 33% of people are most likely to invest in adaptive headlights – the latest tech designed to automatically respond to changing lighting conditions. If you're out for a long ride, or suddenly go under a tunnel, these lights will change their brightness for you, helping keep your visibility high so you can concentrate on the road, ensuring you can see what is in front of you as you go forwardly.
Smart Windshield
The third most popular safety innovation is the smart windshield, with 28% of people favouring it. Samsung is pioneering smart windshield tech, having announced plans to develop one back in 2016.
---
Rise-Up LED Motorcycle Headlight Safety
All things considered, Motorcycle safety is still a concern nowadays, especially with most electric motorbike and motorcycle lighting systems in the market.
On top of that, BRIGHTSTARTW is proud to announce having one more "LED Motorcycle Headlight INVENTION PATENT" in its global patent portfolio. The latest Tech is designed to automatically respond to change lighting conditions.
---
Invention Patent LED Motorcycle Headlight (DARKBUSTER E7)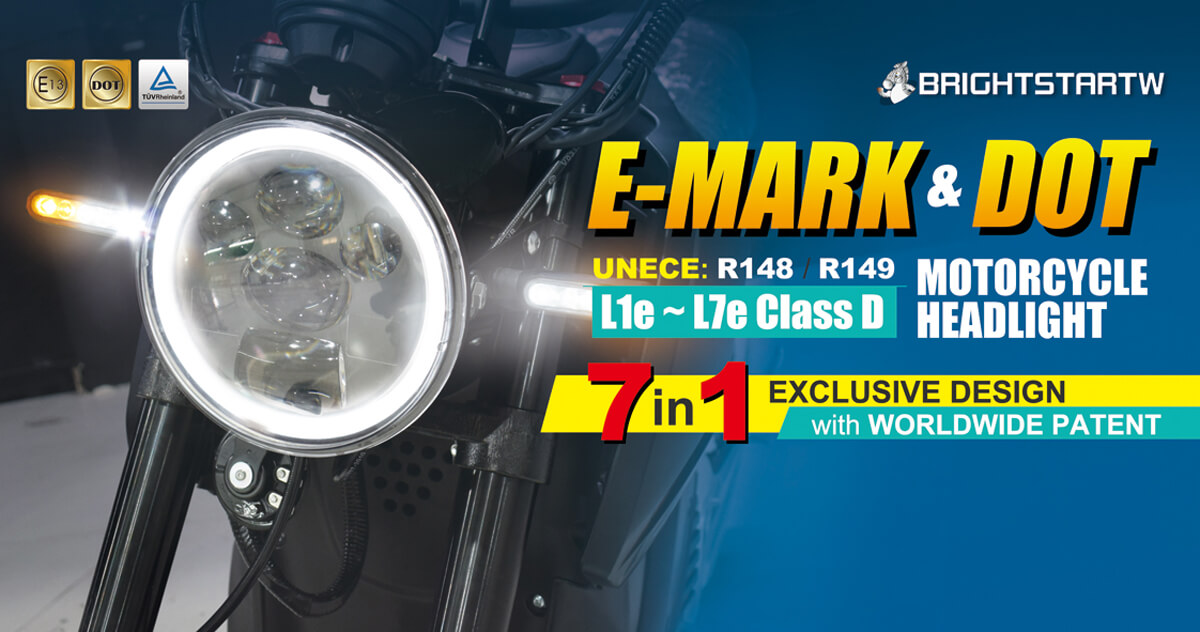 1. World's Most Valuable: LED Motorcycle Headlight Integrated Certified UNECE
High Beam, Low Beam, Fog Lamp, Front Position Light, Daytime Running Light (DRL) & Additional Cornering Auxiliary Lights (LEFT & RIGHT sides)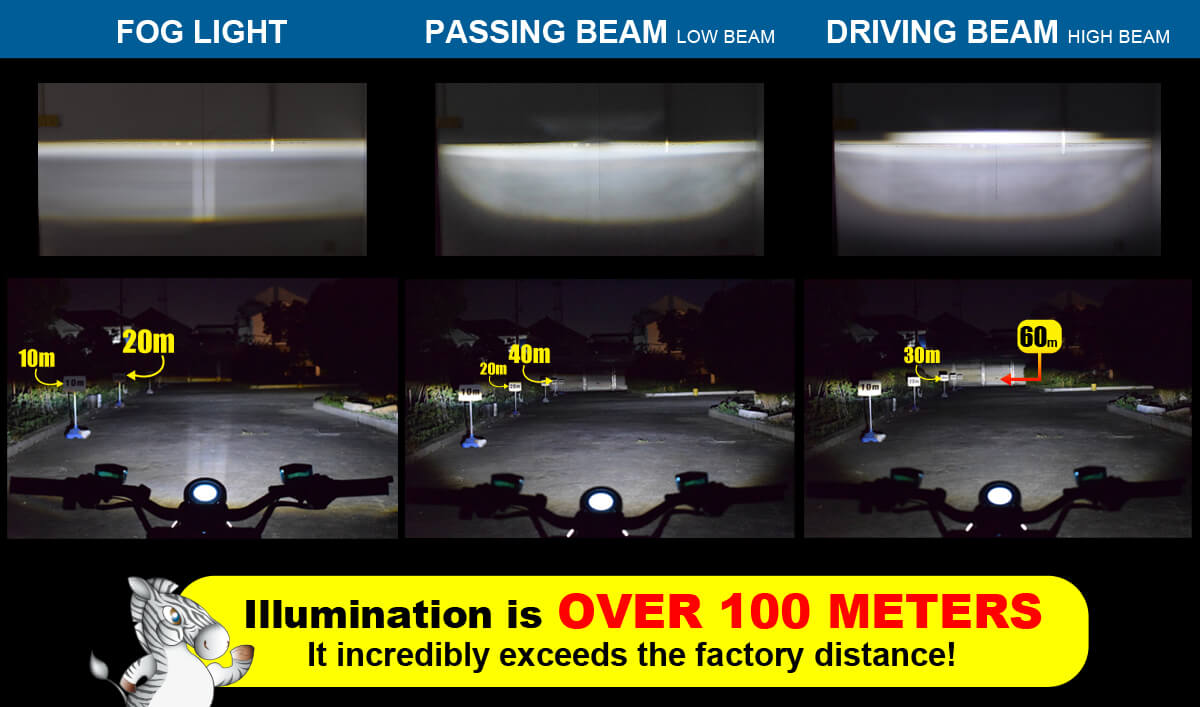 2. Exclusive Additional Cornering Auxiliary Lights for More Visible Riding
This Additional Illumination Fills In The Gaps That Traditional Headlights CAN'T.
● Riding a motorcycle/E-motorbike in the early morning or after sunset comes with an additional safety hazard: Decreased visibility. Additional cornering auxiliary lights improve the visibility of you and your motorcycle/E-motorbike. It is necessary for riding anywhere in ideal lighting conditions.
● Automatic expansive illumination Zone: When you corner/turn left or right, always see and be seen.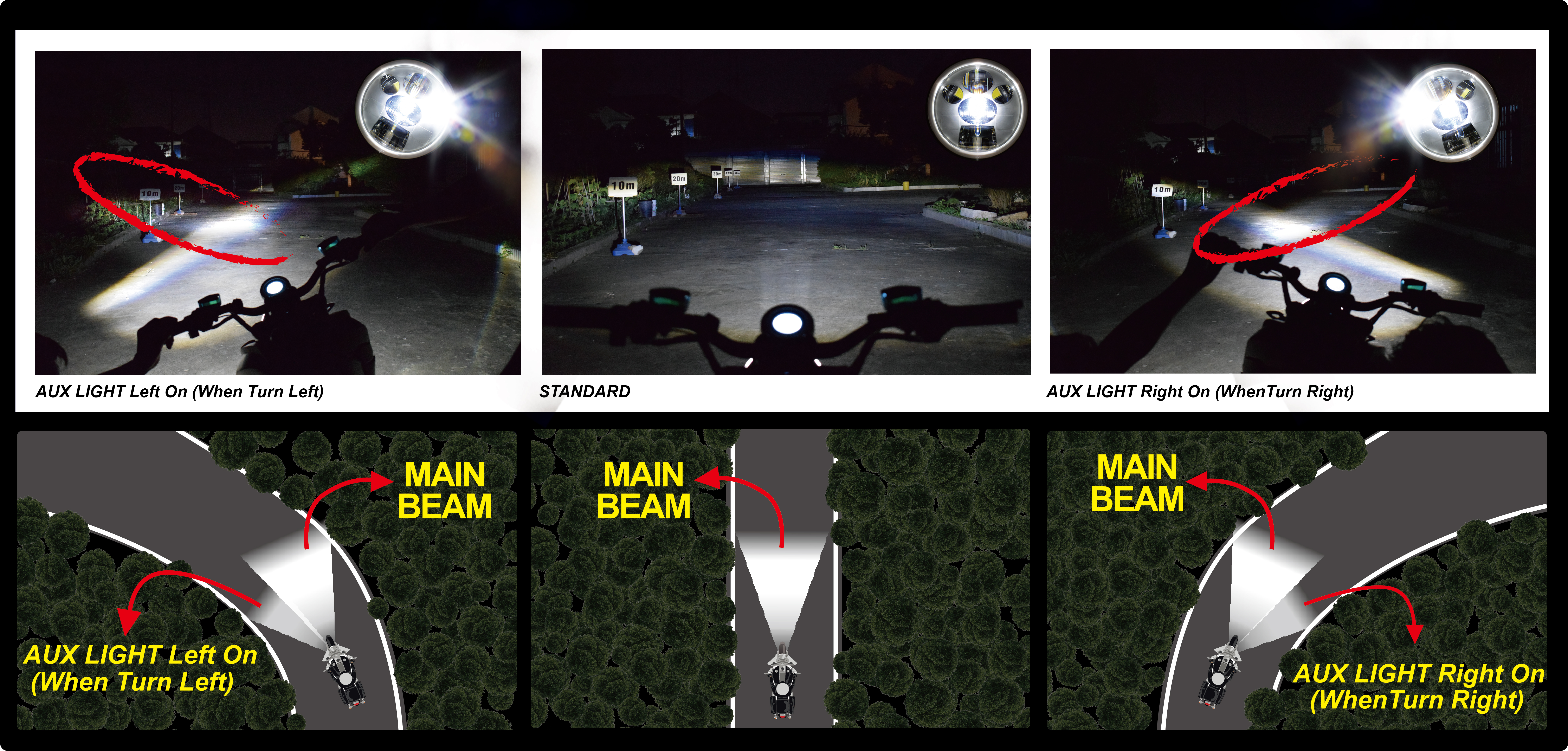 Read More: DARKBUSTER E7
Kindly feel free to let us know if you have any opinions/comments (service@brightstar.com.tw), welcome to contact us. We will be happy to hear various technical opinions! See you around!