Are You Not Really Knowing Clearly That What Is Excellent Design Of PCB?
Do You Know How Many Differences And Elements Know-How On A Printed Circuit Board (PCB) Layout Configuration For Electric Bike Light?
You would never know if you do not look at it now Electric bike light inside configuration and we make an easy-to-read photo showing the PCBs on the bottom.
Today, we are writing this article, because there are many customers who do not really understand why look similar lights with a big different price rate on the market?
They compare every brand and select lowest price with looks like similar functions,  thinking it is a very reasonable deal, but they would never know that is a big loss secret inside the housing PCB design, components and protection.
That sounds cruel to know that buyers sacrifice lots of quality for cheap, SO IT IS NOT REALLY CHEAP with a big loss on a vehicle project value and rider's safety.
How To Find Out High Performance, Robustness, Energy-Saving And Longer Lifespan Headlight & Rear Light For E-BIKE, E-CARGO BIKE, E-MOTORBIKE?
Firstly, we should understand the Electric bike light PCB design layout configuration including :
1. Good Design For EMC Anti-Interference
2. High-Class Qualified Components :
Such as German brand – Osram LED chip is the most reliable & steady quality worldwide.
Filter capacitor can protect circuit and extend entire PCB board's lifespan.
3. Precise Circuit Design (Electrical Protection) :
All PCB layout must be configured electrical protection system design as below:
Short Circuit protection / Over Voltage Protection / Low Voltage Protection / Other protections configured (Secret)
4. Smart IC :
 IC intelligently controls LED chip brightness
 High-End IC System precisely control LED chip voltage.
Components Comparison On PCB Layout Between BRIGHTSTARTW ( E7 / E1 / T2 ) V.S Other Brands

E7:  https://brightstartw.com/product/motorcycle-led-headlight-e-mark-darkbuster-e7/

E1:  https://brightstartw.com/product/ebike-light-e-mark-darkbuster-e1-l1e-l6e-class-c/

T2:  https://brightstartw.com/product/electric-motorbike-tail-light-e-mark-darkbuster-t2/
---
For More Info About DARKBUSTER Series, Click The Bottom As Below: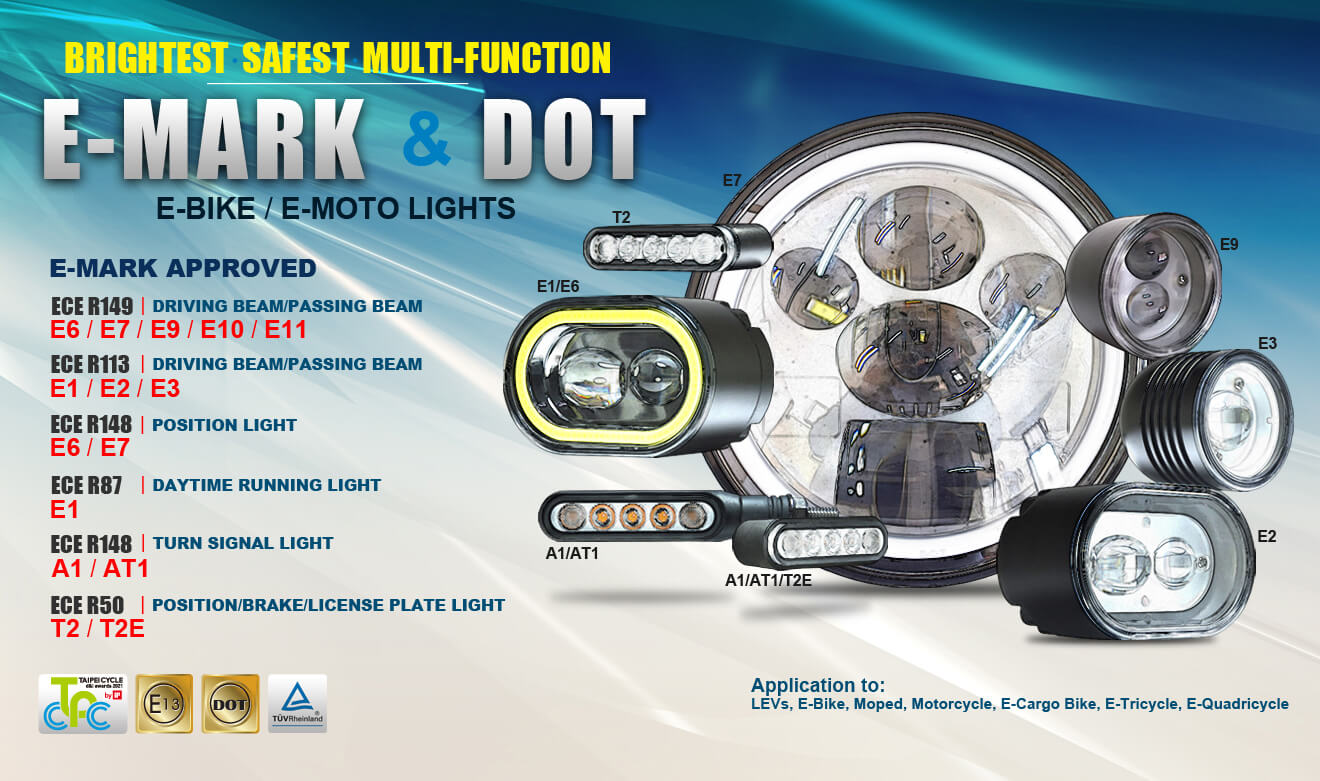 I hope this sharing post does some helps on you during purchasing lamps/lights.
Kindly feel free to let us know if you have any opinion (service@brightstar.com.tw), welcome to contact us. We will be happy to hear various technical opinions! See you around!