BRIGHTSTARTW specializes in optical & circuit design E-BIKE.E-MOTO lights that conform to UNECE E-mark.
---
Find You Inspiration From The Innovative E-bike Light on TAIPEI CYCLE d&i awards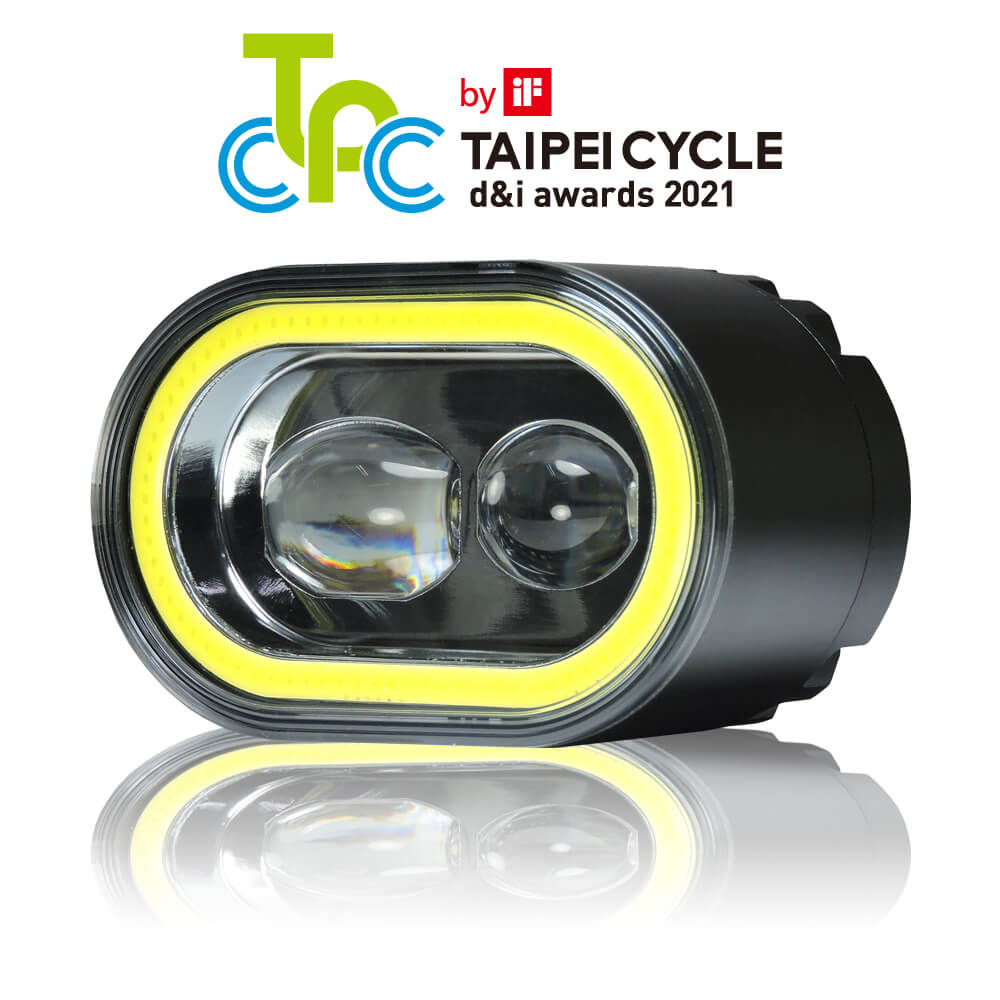 TAIPEI CYCLE d&i awards 2021 WINNERS
E-bike headlight
Emark Darkbuster E1 headlight
Design | BRIGHTSTAR TECHNOLOGY CO. LTD
Manufacturer | BRIGHTSTAR TECHNOLOGY CO. LTD
---
E1 is the top and the unprecedented smallest, brightest (1,550 Lm), lowest power consumption (12W) and the most energy-saving light with E-mark R113 Class C, R10 (EMC) & R87 (DRL).
E1 provides a remote button to switch hi/low beam freely and also the safest vision for the high-speed e-bike/e-moto (up to 45km/28 mph).
With a wide & effective brightness, it protects riders to see & be seen easily and decrease accidents substantially.
It goes through quality tests based on FMVSS.SAE, to be the only light compliant with both EU & NA regulation.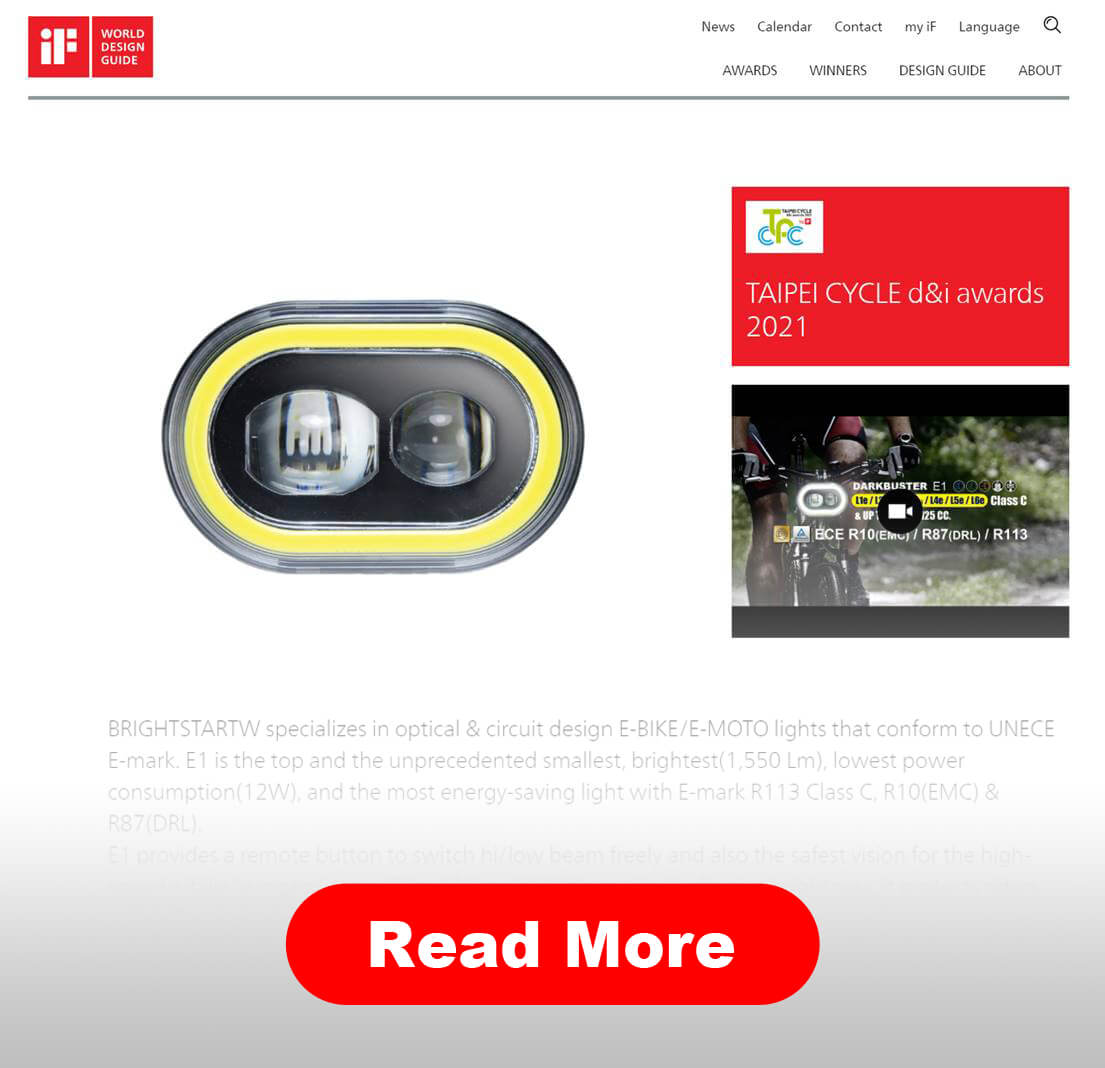 ---
How To Win on market?
For the newest trend growing market of Electric Motor Bike & E-Bike, Darkbuster E1 combines with Hi beam. Lo beam and Day Time Running. 3 of them have passed E-mark approval, and it always makes the rider stay safe even in high speed riding.
Rugged lighting solution can survive under harsh condition- IP 68 waterproof, E-mark for legal on-road, legal importation and protect your brand reputation.
No need to pay for the high price with Hi-Lo E-mark light!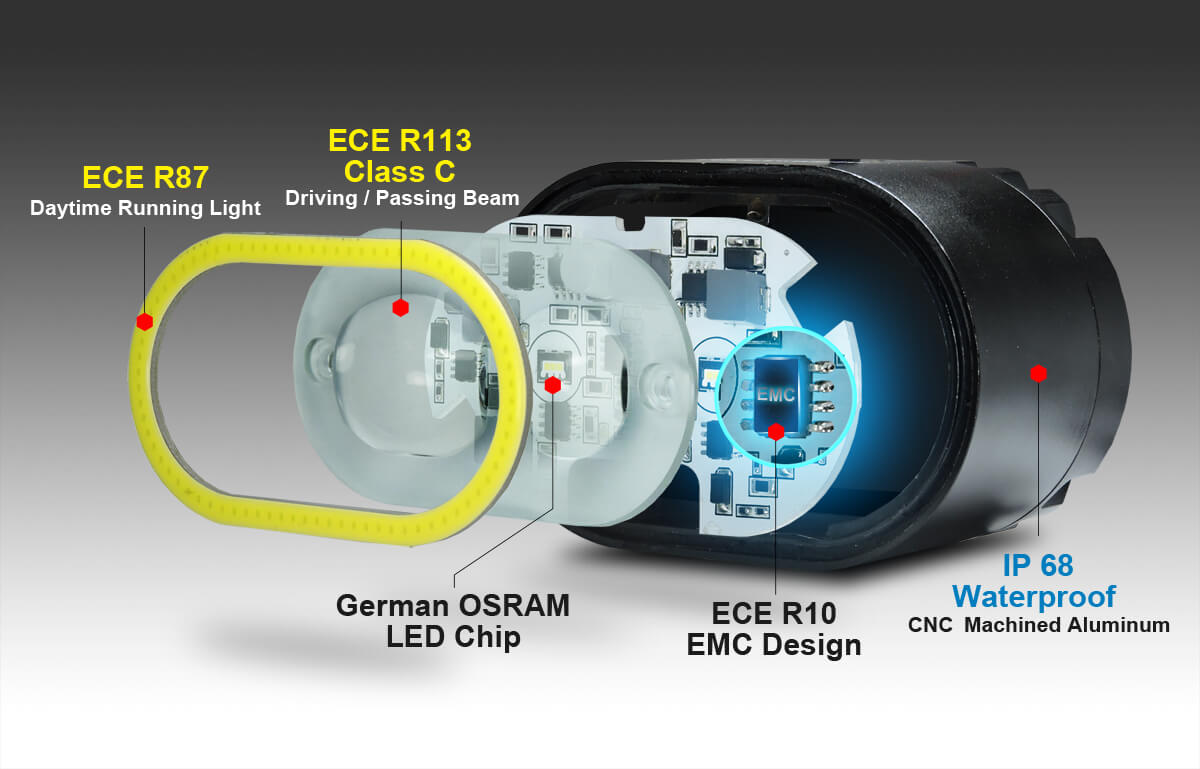 E-Bike Lights E-MARK DARKBUSTER E1 (45 km/h) Features:
Exclusive E-MARK E-Bike Lights With ECE R113 Class C For Both High Beam & Low Beam.

Approved with E-MARK ECE R10 High Standard Of Vehicles!

High-Performance E-Bike Lights Come With the Most Completely E-MARK Certificates In The Market!

Wide Application For L1e, L2e, L3e(A1), L4e, L5e, L6e. UP TO 11KW/125CC
---
Welcome To Contact Us For More Details. Thank You!