---
eBike Front Light E11 Is The Smallest E-MARK Passing Beam Headlight (Osram LED Chip), Legal & Mini Size ~Innovation Design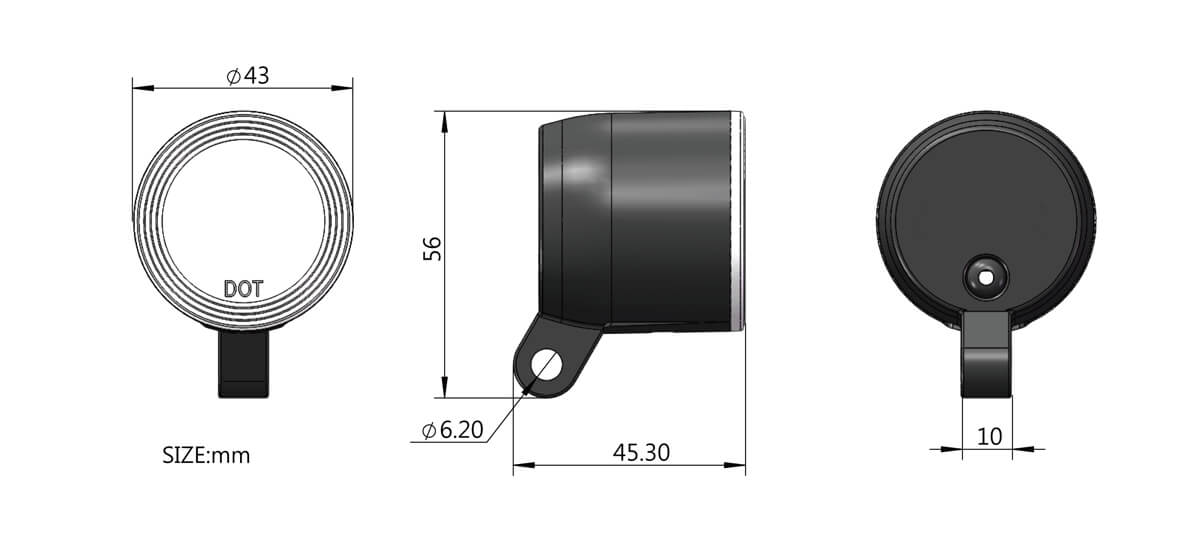 eBike Front Light E11 is certified by TÜV Rheinland.

The most compact size and lightweight (90g)

High-Class qualified components, Such as German Brand – Osram LED Chip is the most reliable and steady quality worldwide.

Application to Micro E-Scooter, e-bike, Speed Pedelec, E-Cargo Bike, Tricycle…etc.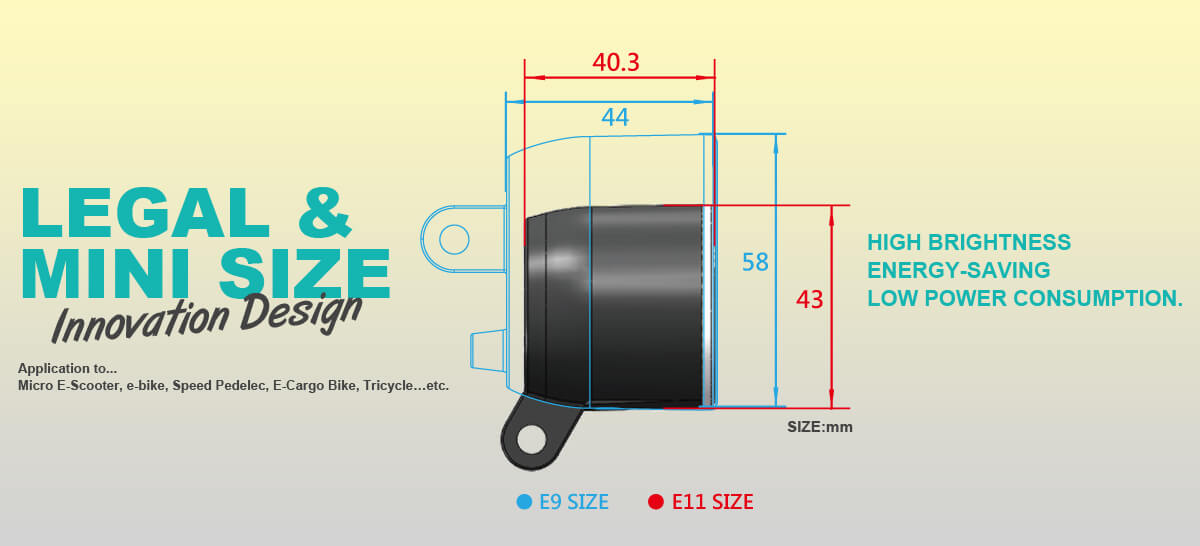 ---
E-MARK UNECE R149 ,  CLASS B Certified & DOT Compliant.
E11 is in compliance of latest requirement of UNECE regulation R149 of E-mark – B CLASS certified and DOT compliant.

Superbly Powerful brightness Low Beam headlight brings you E-mark CORRECT BEAM PATTERN  (Glare-Free).

Approved E-mark LED lights allows E-Vehicle manufacturers adopt whole E-Vehicles quickly and smoothly without going through a long time waste of E-mark Certificated process.

E-mark is an approval for all L category which includes Two-Wheel Vehicles, Three-Wheel Vehicles and Quadricycles.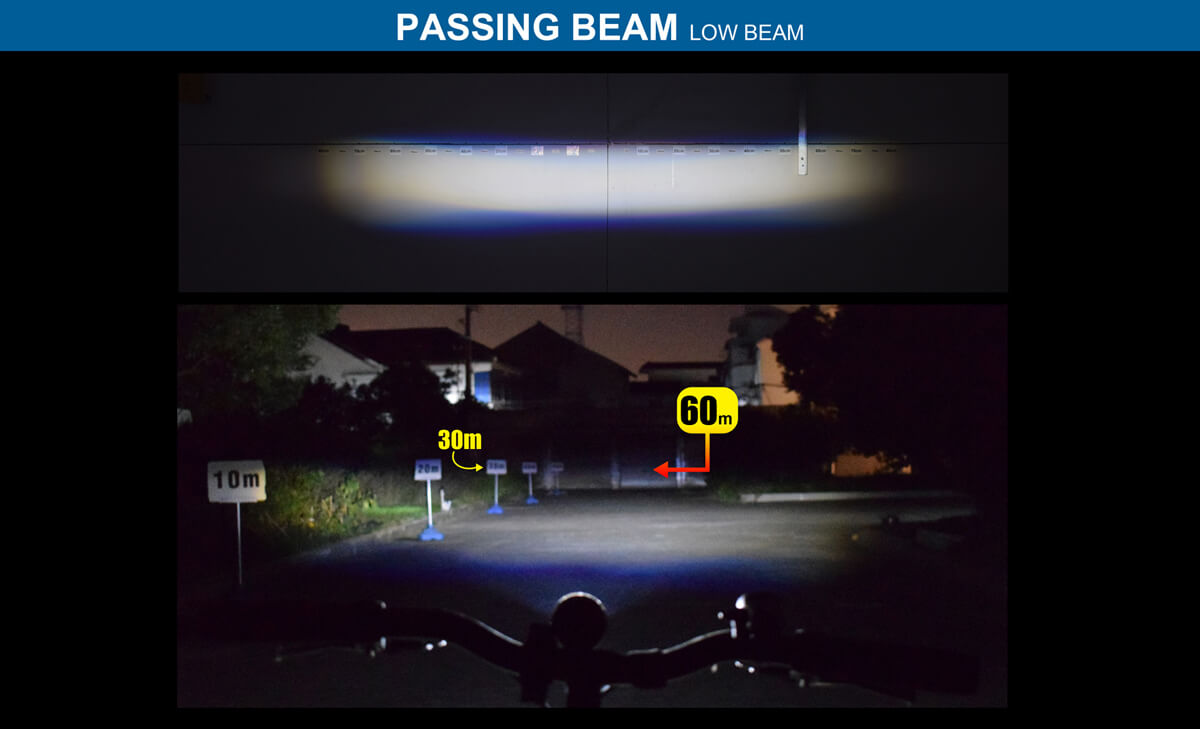 ---
Brighter, Robust Material, Energy Saving and IP68 Waterproof
High brightness, Energy-Saving & Low Power Consumption.

IP68 Waterproof Protection (1 Meter Depth) & Corrosion-Resistant provides long-term durability under difficult climatic conditions.

It is made of robust Die Casting from Aluminum Alloy.
---
Excellent EMC Design & Precise PCB Layout Configuration Design
Excellent EMC Design.

High-Class Qualified Components:
Such as German brand – Osram LED Chip is the most reliable & steady quality worldwide.

Filter capacitor can protect circuit and extend entirely PCB board's lifespan.
Precise PCB Design Layout Configuration (Electrical protection)
All PCB layout must be configured electrical protection system design as below:
Short Circuit protection

Over Voltage Protection

Low Voltage Protection

Other protections configured (Secret!)
IC intelligently controls LED chip brightness

High-End IC System precisely control LED chip voltage.
Wide Voltage Input Range: 6 VDC and 12 VDC, Enhanced Application Area.
---
E-MARK Low Beam Headlight at an Unbelievable Affordable Price on the Market.
Brighter mini size headlight with the best cost value for flexible use widely.

Original Equipment (OE) Quality; moreover, we provide you an affordable Price.

Headlight is equal to robust CAR level which is perfectly put on your creative E-Mobility! It is time to optimize your next outstanding headlight presently, catching this feature as one selling advantage point of your project! WHY NOT?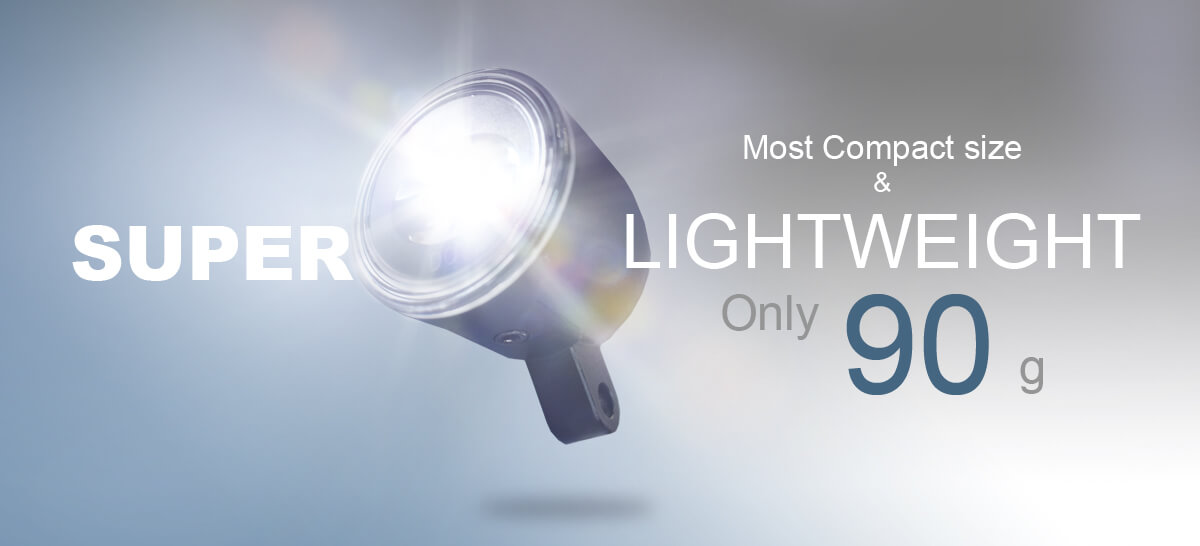 ---
QUALITY ASSURANCE Based on FMVSS / SAE Standards
S14.4.2.3 Heat Test
S14.5.1 Vibration Test
S14.6.6.3 Temperature Cycle Test
S14.6.9 Sealing Test

Salt Spraying Test(ASTM B117-73)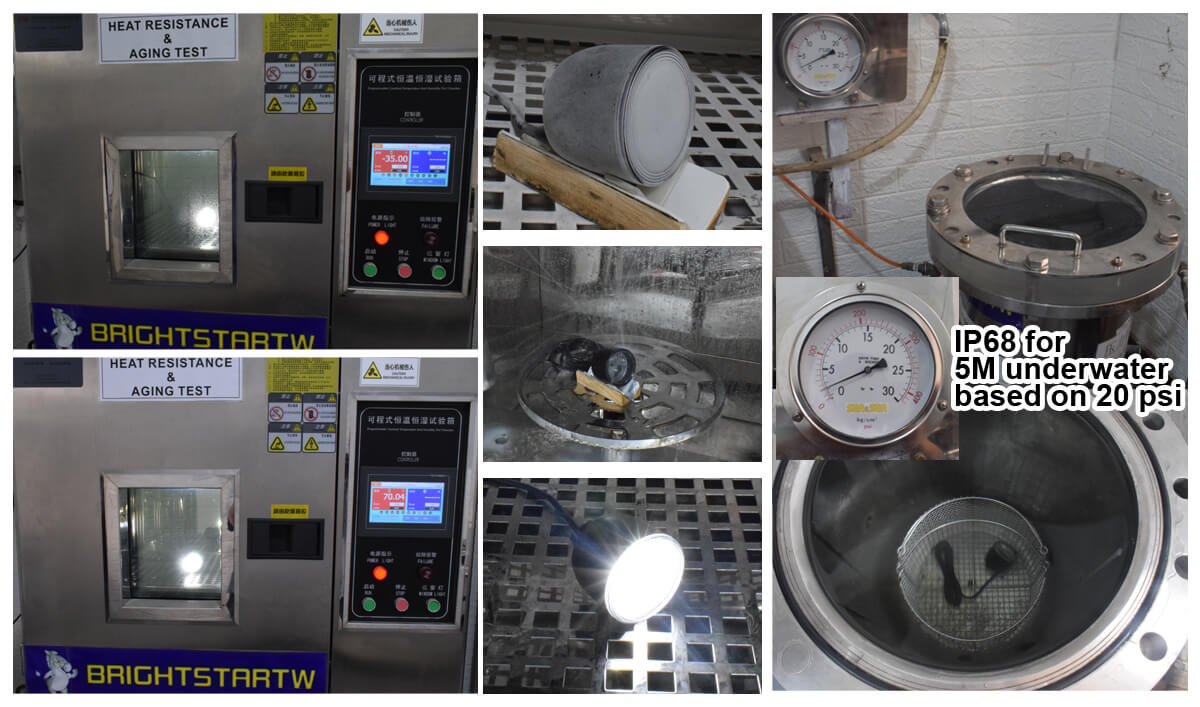 ---
BROWSE ALL ACCESSORY YOU MAY NEED
---
Read More Headlight for ebike E-MARK DARKBUSTER E9